Celebration Of Adyghe Day In KBSU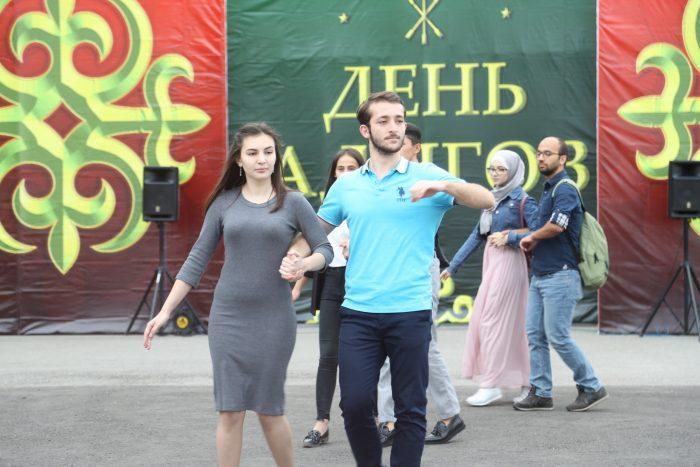 September 19 at Kabardino-Balkarian State University named after H. M. Berbekov celebrations on the occasion of the upcoming national holiday — the Day of the Circassians (Circassians).
Representatives of the university's leadership, teachers and students gathered on the site in front of the State University of Science and Technology to enjoy the performance in the spirit of national traditions, organized by the creative teams of KBSU on the initiative of the Adyghe Culture Center.
On behalf of the leadership of the university, everyone on the occasion was congratulated by the Vice-Rector of KBSU for Academic Affairs Vadim Lesev.
«May the friendship of the peoples of our republic grow stronger and flourish», said the vice-rector.
Further, the artists of the KBSU "Amiks" song theater performed folk songs. Also, the audience was invited to the dances of the folk ensemble of KBSU «Kafa» in various styles, taking into account the Circassian traditions. Among them are both graceful, lyrical, and incendiary.
According to tradition, the final part of the holiday was jagu, that is, folk games, in which artists and spectators took part. Jagu was held according to traditional canons. Game manager, i.e. Hatiyako, with his rod, as it has long come to our days, arranged the dances in the necessary order, starting with slow ones and ending with more fiery ones. The festival turned out to be friendly and bright, traditionally ended with the dance of UJ. Among the participants were many foreign students.
«Music, dancing, art have no insurmountable boundaries. They must become a unifying force, which is happening today. It is very pleasing. I will say more. Children from Syria and Turkey provided all possible assistance in preparing the scenery for this event. » — said Amir Kulov, head of the Song Theater of KBSU «Amiks.»
He also added that public holidays have significant educational significance.
It is very pleasing when so many young people take part in national festivals. We must know and honor our traditions, observe adyghe habze, and interest in them often begins with such illustrative moments,
— said Amir Kulov.
At the end of the jagu, everyone was treated to traditional dishes of the Adyghe cuisine.
For reference:
By a decree of the Head of the KBR on August 12, 2014, September 20 was approved as a public holiday. The holiday is intended to serve as an incentive to strengthen ties and further consolidate the Adyghe (Circassian) ethnic group, most of which currently lives outside its historical homeland, as well as strengthen the unity of the peoples of Kabardino-Balkaria.