Student welcome guide
Useful information which helps to make your staying in Nalchik nice and pleasant.
Useful telephone numbers
Fire
01
Police
02
Ambulance
03
Gas
04
Rescue service (dialing from cell phones only)
112

KBSU

+7 8662 40-48-06

+7 8662 42-25-60

Airport Nalchik

8 800 222 8662

Airport Mineralnye Vody

8 87922 20 777

8 800 333 0321

KBSU information service

+7 8662 40 48 06

Taxi

+7 8662 97-77-77

+7 8662 77-42-42

+7 8662 40-34-44
General information about Russia
Official Name and Government
The Russian Federation (Russia), legal successor of the Union of Soviet Socialist Republics (USSR) since 26 December 1991.
State structure – federative, each region has executive and legislative branches.
Head of State – President, elected every 6 years by direct elections.
Area
Total area – 17 075 200 sq km (6 592 800 sq km).
Length – 9000 km from east to west and 5000 km from north to south. One fourth of the territory lies in Europe, the other part – in Asia.
Russia is the largest country in the world.
Capital – Moscow, 12,4 million citizens.
Official Language
The official language is Russian.
Currency
Russian ruble (RUB)
Time in Russia
(UTC+2 to +12)
The Kabardino-Balkar Republic
 The Kabardino-Balkar Republic, or Kabardino-Balkaria, is a federal subject of Russia (a republic) located in the North Caucasus.
The republic is situated in the North Caucasus Mountains, with plains in the northern part.
Area: 12,500 square kilometers (4,800 sq mi)
Highest point: Mount Elbrus (5,642 m)
Climate
The republic has a continental type climate.
Average January temperature: −12 °C (10 °F) (mountains) to −4 °C (25 °F) (plains)
Average July temperature: +4 °C (39 °F) (mountains) to +23 °C (73 °F) (plains).
The main places of interest in Kabardino-Balkaria
Chegem Gorge — one of the most popular tourist destinations. It is rich in historic monuments and spectacular landscapes. Chegem waterfalls are the jewel of the gorge. Streams of water cascade down from a height of 50-60 meters forming numerous rainbows. "Chegem" is translated as "broken land."
Golubyye (Blue) Lakes. Five unique natural lakes are located in Chereksky district of Kabardino-Balkaria: Nizhneye Goluboye or Lower Blue (Chirik-Kel), Sekretnoye, Sukhoye and two Verkhneye Goluboye or Upper Blue. Lower Blue Lake is of particular interest. It is a huge artesian well with a consistently low temperature at all depths.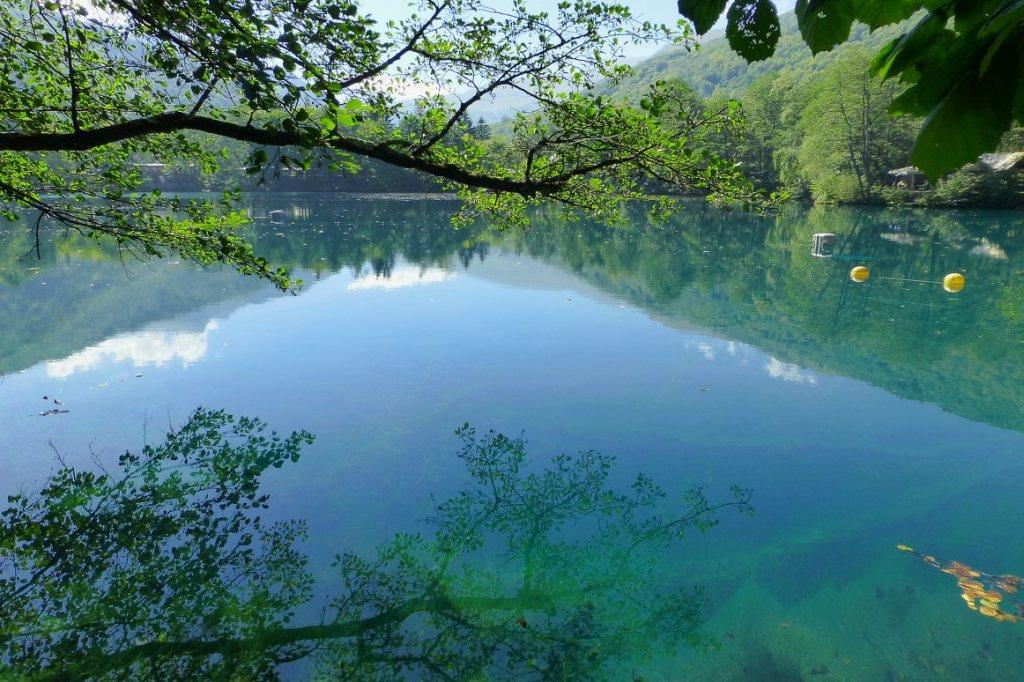 Mount Cheget. One of the most difficult ski resort tracks in the world known as a venue for national and international competitions in alpine skiing and freeride.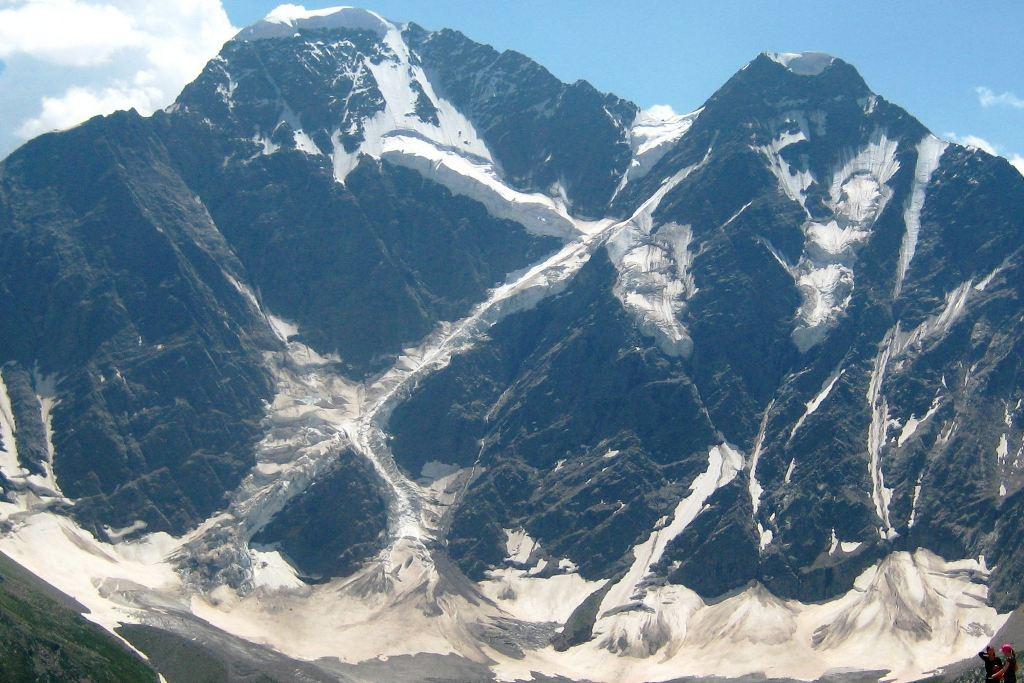 The National Park "Prielbrusye" and Kabardino-Balkaria mountain reserve.
Aushigerskiye thermal springs. Therapeutic mineral water beats straight out of the ground and forms a large warm lake.
 Nalchik is the capital city of the Kabardino-Balkar Republic.
The word "nalchik" means "horseshoe" in local dialects, as the city is located inside a semicircle of mountains resembling a horseshoe. The latter became the symbol of the city.
The population of Nalchik is about 239,000 (2015), the area — 67 sq. km.
The phone code — +7 8662, the postal code — 360000.
 Culture
Museums
National Museum of the Kabardino-Balkar Republic (Gorky Street, 62),
Museum of Fine Arts of the Republic of Kabardino-Balkaria (Lenina Avenue, 35),
Literary Museum (Dolinsk, sanatorium "Elbrus"),
House Museum of the Kabardian poet and writer A.Shogentsukov (Gorky Street, 35),
House Museum of M.Vovchok, the only one in Russia museum of the famous Ukrainian writer (Dolinsk, M. Vovchok Street),
Several exhibition galleries.
Theaters
Kabardian State Drama Theater named after A.Shogentsukov (Shogentsukova Avenue, 2),
Balkar State Drama Theatrr named after K.Kuliev (Balkarskaya Street, 2),
State Russian Drama Theater named after M.Gorky (400-letiya Square),
State Musical Theater (400-letiya Square),
Green Theater (an open-air amphitheater in the city park),
Puppet Theater (Keshokova Street, 60),
State Concert Hall (Shogentsukova Avenue, 28).
Useful information on staying in Nalchik
Transport
Types of buses in Nalchik:
Buses
Minibuses (called "marshrutnoye taksi")
Trolleys
Daily working time:
07:00 — 21:00
When using a bus or a trolley keep your ticket during the whole trip as you may be asked to declare it by a ticket inspector.
Currency exchange
Tips:
change money in the bank, never in the street;

take enough cash when you go out;

the most "convenient" currency to bring to Russia is USD or Euro.
Mobile phones
Main Nalchik's mobile service providers are:
| | |
| --- | --- |
|   | |
| | www.megafon.ru |
| | www.mts.ru |
| | www.beeline.ru |
| | www.yota.ru |
Useful links
Information about Russia

www.russia.com

Information about Nalchik

www.inalchik.ru

News portal KBR

www.07kbr.ru

Cinema

www.tc-deya.ru/cinema

www.galleria-nalchik.ru/cinema

www.nalchik.kinoafisha.info/cinema
  Useful information about KBSU
Department/office
Phone

Director of the institute on work with foreign students

8 (8662) 77 32 81

udms.kbsu@yandex.ru

Dean's office

8 (8662) 77 25 13

Passport and Visa Services

8 (8662) 77 25 13

Selection committee

8 (8662) 42-27-79

Dormitory № 1

8 (8662) 42 34 38

Dormitory № 2

8 (8662) 42 37 84

Dormitory № 3

8 (8662) 77 21 00

Dormitory № 4

8 (8662) 42 26 39

Dormitory № 5

8 (8662) 77 53 57

Dormitory № 6

8 (8662) 42 02 92

Dormitory № 7

8 (8662) 42 64 51

Students' polyclinic

8 (8662) 40 48 06

Accounting department

8 (8662) 40 13 77
Health Insurance and Medical care
There are 2 types of medical care in Russia:
state
private
You can have only emergency medical services free of charge. For any other medical assistance you should have a health insurance policy (in Russia this kind of policy is usually called a DMS policy). You should note that non-state clinics can offer you medical care without a policy but in this case you should pay yourself for your treatment.
You can buy a private medical insurance policy immediately after arriving in Russia. According to Russian laws the policy should be applied for and received at first day of your staying in Russia, not considering the purpose of your visit.
Cost of health insurance policy depends of region, scope of services (calling a doctor, ambulatory care, hospitalization, dental solutions) and validity (from 3 months to 1 year). Cost of private medical insurance policy is 3 500 — 12 000 rubles (approximately $60-$200).
While staying on the territory of the Russian Federation, a student is obliged:
to watch his documents and comply with all the rules of a foreign national staying on the territory of Russia

in case of a damage or a loss of a passport, migration card or notification form a foreign national is obliged to notify KBSU Passport and Visa Services within 3 days.

20 days before the end of the migration registration and the previous visa student is obliged to issue or prolong multiple visa at the Passport and Visa Services of the University.

If a student has left the Russian Federation on vocation or visited another city in Russia, he obliged to inform KBSU Passport and Visa Services and issue a new migration registration within 7 days.