Russian-Indian round table at KBSU
"My beloved homeland" — such was the topic of the round table organized by the scientific library and the higher school of international education of Kabardino-Balkarian State University named after H. M. Berbekov, whose participants were Russian and foreign university students.
During the meeting, young people exchanged fascinating stories about their countries and plans to improve their quality of life. Students from India were interested in learning about the sights of Kabardino-Balkaria, for example, about the unique Blue Lakes, the culture, customs and traditions of its inhabitants, the peculiarities of the national costume, which student historians of KBSU Suzanne Kulimova, Susana Vologirova, Aissa Guchapsheva gladly told them about. , Anzor Kushkhov, Islam Berzekov.
Boziev Alan Romanovich, assistant of the department of general history, spoke about the role of traditions in the life of modern youth in Kabardino-Balkaria.
For their part, foreign students Pranjali Patel, Bansi Bhesania, Akash Sen made presentations about the historical sites of India, the great treasury — the Taj Mahal mausoleum. Yugandhar Sakleshpura spoke about the religion and languages ​​of the peoples living in India, and Prashank Pandey revealed the secrets of Ayurveda Indian folk medicine. Listeners from Rashmi Tevati learned a lot about the culture and traditions of India, and Mayuri Shahara proudly announced modern achievements in her homeland.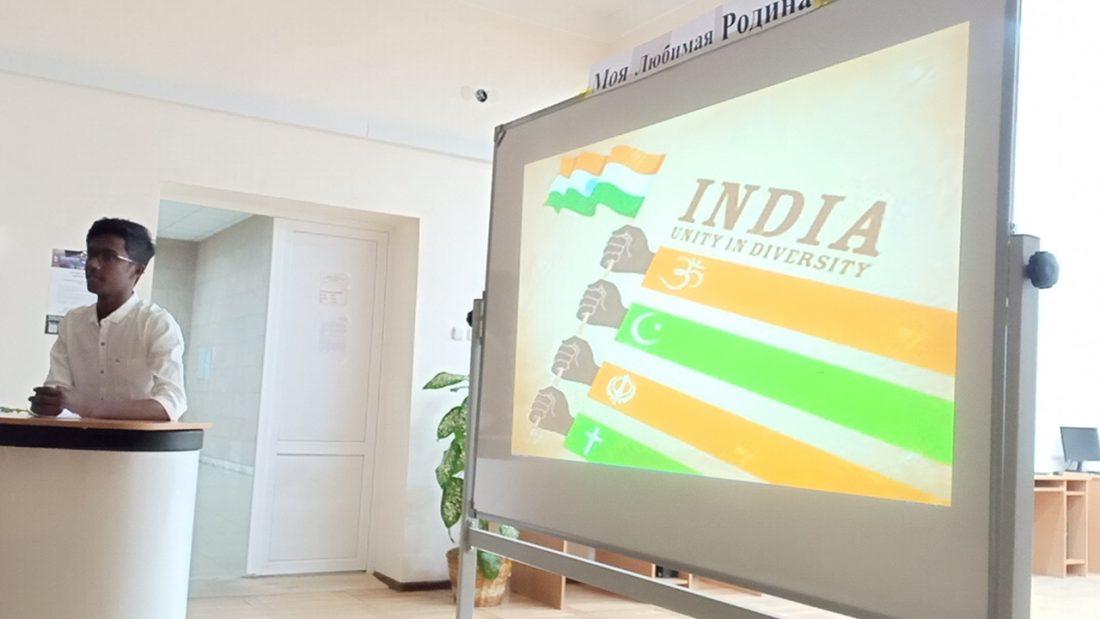 Joint communication between students of both countries helped to overcome the language barrier and bring Russian and Indian youth closer in the context of the interconnectedness of cultures and traditions.
At the end of the meeting, the director of the institute of the Higher School of International Education Albert Shapsigov presented diplomas and prizes to the participants.