KBSU and KBSC RAS ​​held an interdisciplinary seminar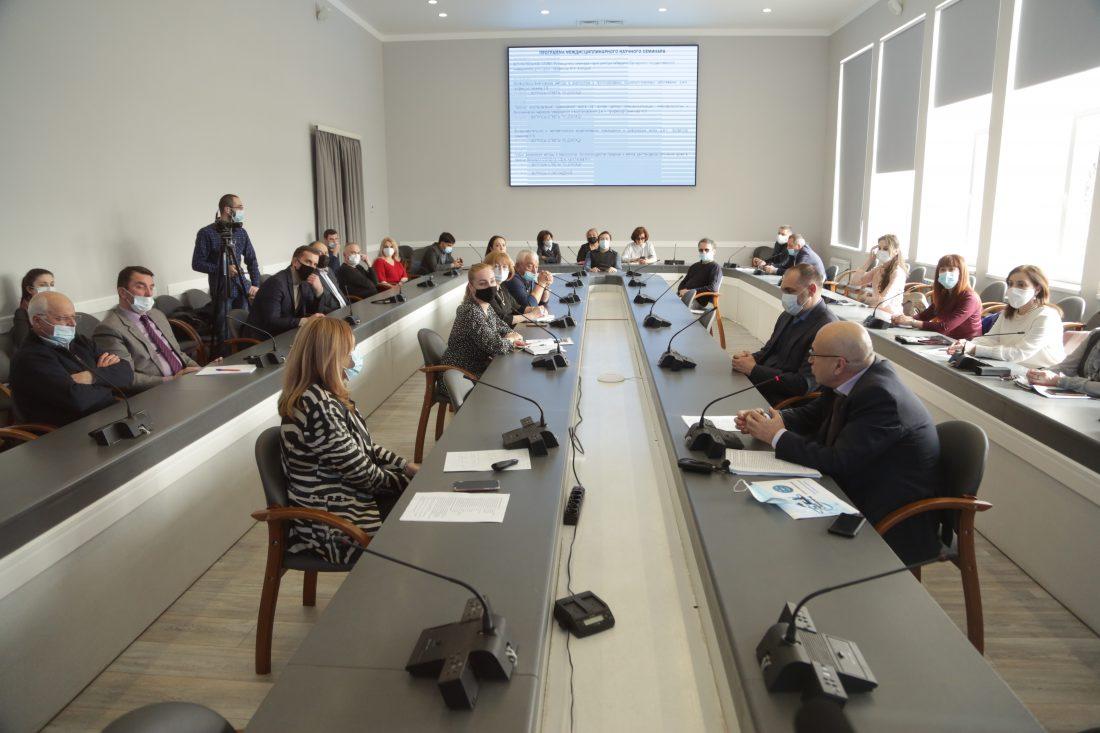 On the initiative of the Acting Rector Yuri Altudov, on March 23, in the meeting hall of the Academic Council of the Kabardino-Balkarian State University H. M. Berbekov passed an interdisciplinary scientific seminar, which was attended by representatives of the Kabardino-Balkarian Scientific Center of the Russian Academy of Sciences.
Acting rector of KBSU Yuri Altudov addressed the audience with a welcoming speech.
«Dear colleagues, dear friends, I am glad to launch this event. Let me remind you that 2021 has been declared as the year of science and technology. Within the framework of this year, 76 events are planned at KBSU», — commented the rector of the university.
In response, the Chairman of the Kabardino-Balkarian Scientific Center of the Russian Academy of Sciences Zalimkhan Nagoev greeted all the guests.
«Such events help to understand what each of us is doing, to expand the circle of acquaintances. We have wonderful relations with KBSU. I wish the seminar a successful work», — summed up the Chairman of the Kabardino-Balkarian Scientific Center of the Russian Academy of Sciences.
As noted by Doctor of Chemical Sciences, Professor Svetlana Khashirova, such seminars play a very important role in modern science.
«As one of the forms of practical training, such events allow us to discuss various scientific problems, developing common solutions. The main goal of the seminars is immersion in the discipline, mastering the methodology of scientific knowledge. Simply put, this is a fruitful form of scientific cooperation,» — noted Svetlana Khashirova.
Famous scientists in the field of medical sciences presented various topics. Zhanna Semyonova, Head of the Department of Neurosurgery and Neurotrauma of the Scientific Research Institute of Emergency Pediatric Surgery and Traumatology in Moscow, spoke about the stages of effective emergency care and rehabilitation treatment in children with severe traumatic brain injury. Head of the Department of Microbiology, Virology and Immunology, Doctor of Medical Sciences, Professor of KBSU Zaira Kharaeva spoke with the topic: «Molecular genetic methods in the diagnosis and prediction of socially significant events», and the head of the laboratory of surface physics, candidate of physical and mathematical sciences Ramazan Tegaev spoke about new treatments in virology and intravascular blood irradiation in the treatment of blood of patients with COVID-19.
At the end of the seminar, Doctor of Technical Sciences, Candidate of Physical and Mathematical Sciences, Professor of the Department of Applied Mathematics and Informatics of KBSU Muaed Oshkhunov proposed to discuss the problems of secondary and higher education at the next seminar and noticed that he did not know a single university where the rector would be a participant in an interdisciplinary scientific seminar.